May 3, 2023
Hannover Messe 2023 Brings a Positive Impact to Indonesia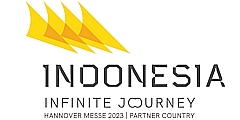 Hanover, Germany, May 3, 2023 – (ACN Newswire via SEAPRWire.com) – Deutsche Messe AG (DMAG) held a closing press conference at the Industrial Transformation Conference Stage, Hannover Messe Fairgrounds, following the closing of Hannover Messe 2023 on Friday (21/04). Eko SA Cahyanto, Director General of Industrial Resilience, Regions and International Access (KPAII), Indonesian Ministry of Industry, together with Dr. Jochen Kockler, Chief Executive Officer (CEO) of DMAG, and Dr. Gunther Kegel, President of the German Industrial Association, Verband der Electro-und Digitalindustrie (ZVEI), participated in the press conference.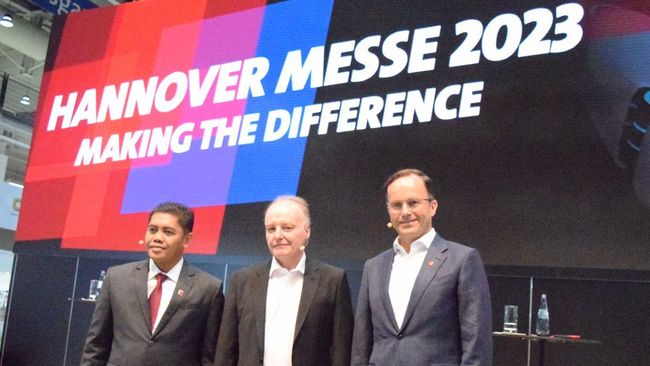 (Photo: Doc. Ministry of Industry)
Eko SA Cahyanto said that as a partner country, Indonesia was pleased to be part of the world's largest industrial exhibition, and this had a positive impact on Indonesia. Visitors to the exhibition had reacted positively to the Indonesia program as Hannover Messe 2023 Partner Country. The program included art performances during the opening ceremony, the opening of the Indonesia Pavilion, country night, business summits and several conferences. Exhibition-goers visiting the Indonesia Pavilion and the 157 co-exhibitors reflected Indonesia's success as a partner country.
Dr. Gunther Kegel, President of ZVEI, noted that even though there were protests taking place simultaneously in various German cities, the five days of Hannover Messe 2023 drew hundreds of thousands of visitors. And in addition to business people, Hannover Messe also attracted political delegations from 50 countries. By comparison with other industrial exhibitions, said Dr Kegel, the Hannover Messe still outperforms among industrial exhibitions.
Dr. Jochen Kockler, the CEO of DMAG, said that the 130,000 visitors to the Hannover Messe would have the same goal in mind, fostering industry that was more resilient to climate change and more competitive. Additionally, countries including China, Korea, the Netherlands and America accounted for 43% of the visitors to Hannover Messe 2023. Furthermore, the Indonesia Pavilion at the Hannover Messe Fairgrounds had attracted around 75% of the large number of overall visitors to this years Messe.
In line with an improving Indonesian industrial sector following the pandemic, its role as partner country for the third time was also positive. Through closing of Hannover Messe 2023, Indonesia had signed one Government/Government agreement, four Government/Business agreements, and twenty-five Business/Business agreements, expected to create jobs for approximately 80,000 people in the country.
Hannover Messe 2023 | Partner Country Indonesia
As Partner Country to Hannover Messe 2023, Indonesia presents more than 150 exhibiting organizations that range from large industrial companies, small and medium-sized enterprises and startups to industrial estates, industrial associations and government ministries and institutions. Indonesia invites you to discover its potential – join the Partner Country's infinite journey at Hannover Messe. Visit https://indonesiahannovermesse.id.
The Ministry of Industry (Kemenperin)
Public Relations Bureau, Jakarta
E: humaskemenperin@gmail.com
Copyright 2023 ACN Newswire. All rights reserved. (via SEAPRWire)